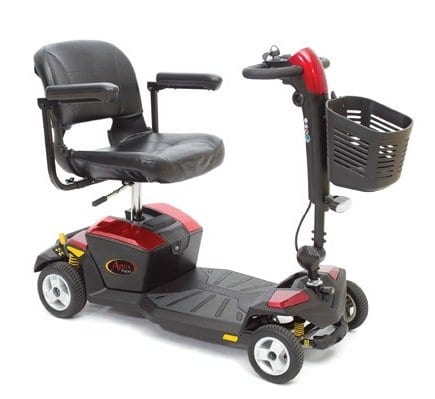 Introducing the first travel mobility scooter from 'Pride® Travel Scooter' range to feature ground breaking all-round suspension.
The Apex Rapid with CTS Suspension (Comfort-Trac Suspension) delivers luxury and convenient features like a wraparound delta tiller with a high level charging port, LED kerb light and a storage basket together with a compact, easy to transport design.
Sleek styling complements the Apex Rapid's abundant features making it an exceptional travel mobility choice.
The Pride Apex Rapid Mobility Scooter provides for the perfect balance between complete practicality and sleek style. Choosing this model from amongst our ranges guarantees you reliable freedom to travel where you need, when you need to, safe in the knowledge that you're being carried by uncompromising build standards.
CALL NOW FOR A FREE - NO OBLIGATION TRIAL
VISIT ONE OF OUR MOBILITY CENTRES TODAY
We offer mobility home visits, to help you find the right product for you