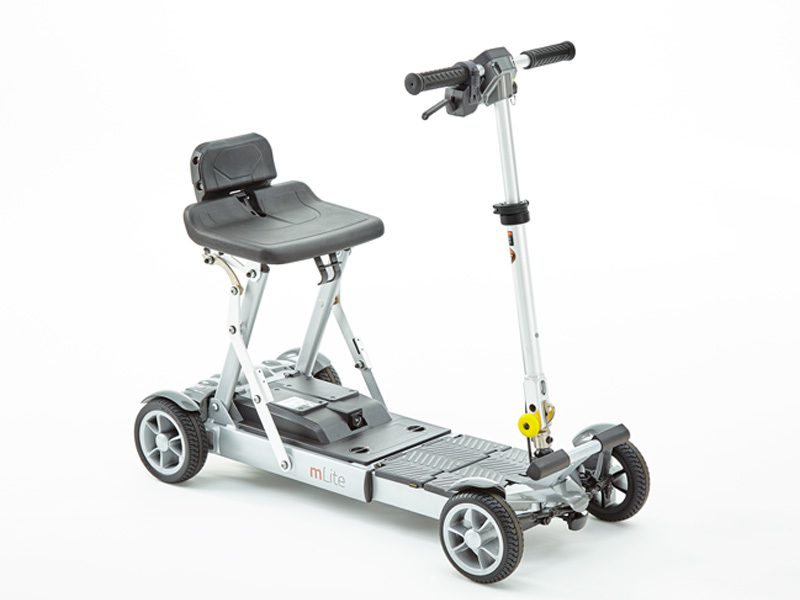 The mLite weighs just 17.8kg making it the lightest folding mobility scooter on the UK market. The easy to remove lithium battery pack weighs just 1.85kg and offers the option of both on or off board charging. The battery even has a handy status indicator to show quickly when removed how charged the battery is.
Using a revolutionary quick and simple sliding mechanism the mLite offers both a comfortable spacious ride when unfolded but is still one of the most compact scooters on the market when folded. This allows it to fit in any car boot, or even the rear footwell of most cars. The extendable handle also offers the ability to easily manoeuvre when folded , making it even easier to store or travel with using public transport.
Despite its compact size the mLite has an outstanding 18 stone weight limit and a powerful motor which allows it to outperform most small scooters on the market. The extra soft compound solid tyres and soft rubber seat also provide a level of comfort usually only provided on larger scooters.
CALL NOW FOR A FREE - NO OBLIGATION TRIAL
VISIT ONE OF OUR MOBILITY CENTRES TODAY
We offer mobility home visits, to help you find the right product for you