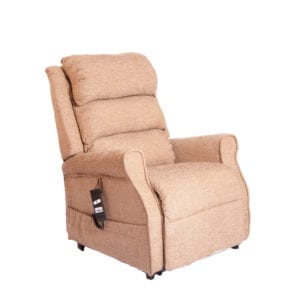 The Kingsley chair is available in single and dual motor options.
Operated by a powerful and reliable Okin motor, the single motor Kingsley chair is the perfect choice for users looking for reliable simplicity.
With a simple up/down button control and combining a "legs-up-first" action this chair comes in the classic and ever popular waterfall back design.
Operated by two powerful and reliable Okin motors the dual motor Kingsley chair offers unrivaled flexibility for the user.
Operated by a four-button handset control this chair can be adjusted to virtually any position to ensure optimum comfort for the user.
CALL NOW FOR A FREE - NO OBLIGATION TRIAL
VISIT ONE OF OUR MOBILITY CENTRES TODAY
We offer mobility home visits, to help you find the right product for you